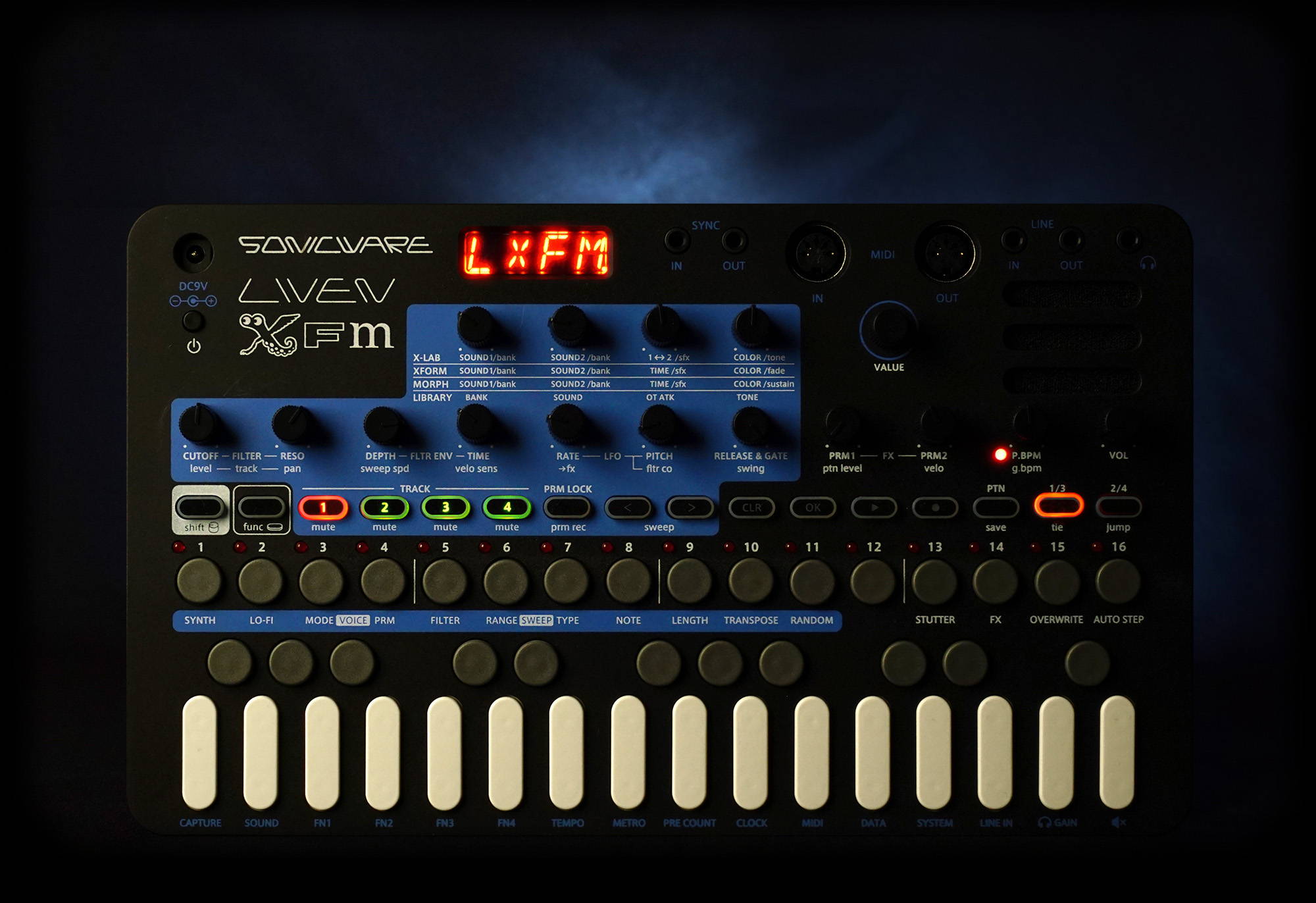 Classic FM sounds,
effortlessly merged with FM FUSION

Using the 4-track sequencer and presets,
you can construct an entire song.

Classic FM sounds,
effortlessly merged with FM FUSION
Using the 4-track sequencer and presets,
you can construct an entire song.

Classic FM sounds, effortlessly merged with FM FUSION
Using the 4-track sequencer and presets, you can construct an entire song.

Merge two FM sounds with a single knob to create a completely new sound.


Transform one FM sound into another over a specific period of time.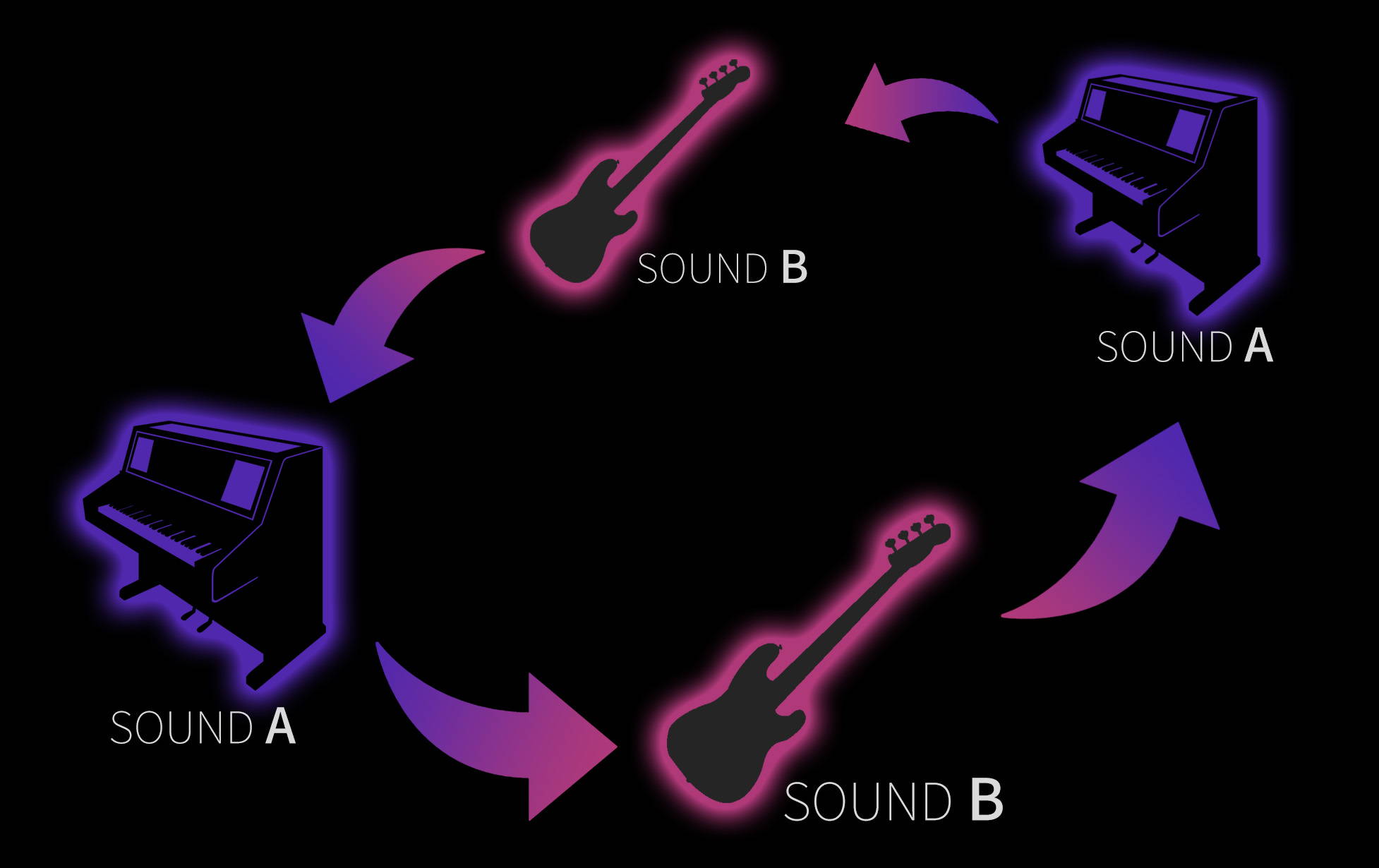 Continuously transform between two FM sounds using an LFO.


Over 300 Inspiring Preset Sounds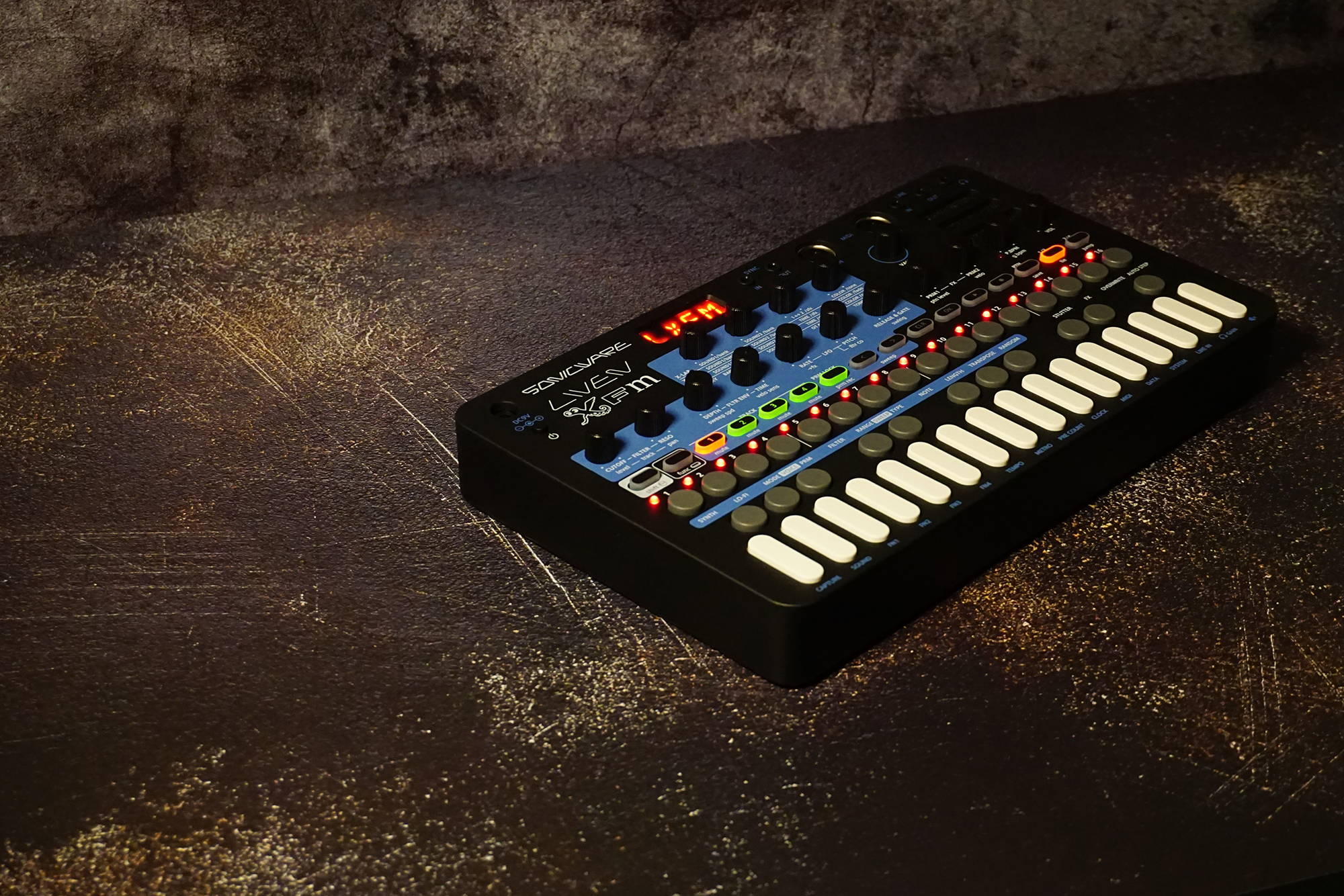 Ready-to-use presets including, leads, keyboards, strings, winds, basses, pads, chords, drums, and sound effects.

Two approaches to FM sound design

Merge and sculpt FM sounds with a single, intuitive, knob turn.
The X-Lab engine merges two FM sounds by smoothly blending their envelopes, modulation routing, and feedback.
The X-Lab algorithm can merge sounds with radically different FM structures and overtones, all without losing the fundamental tuning of the sound. Pitch locking can also be turned off to create brilliant atonal transitions between FM sounds.
Merged sound can then be saved, recalled, and merged with additional FM sounds.
We call this merging process FUSION FM.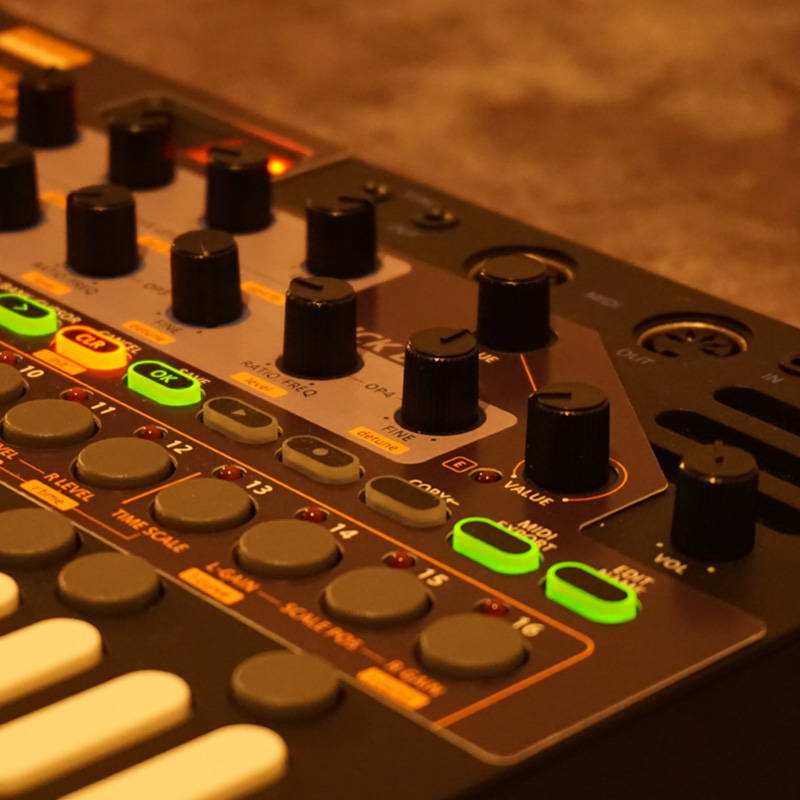 For those who want to dive into the FM Engine, the EDIT mode and included overlay provide full access to the innovative 4-OP XFM engine.
15 knobs and 30 buttons provide quick and intuitive access to all FM parameters.
Explore FM synthesis without the conventional menu diving and head scratching.



4-Track Step Sequencer

Perfect for song production and live performance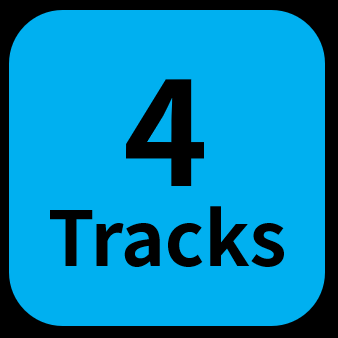 Manage lead, bass, rhythm, and more, each on separate tracks.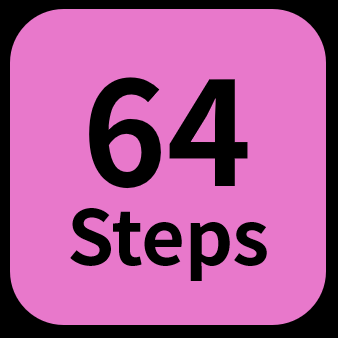 Sequence up to 64 steps per pattern.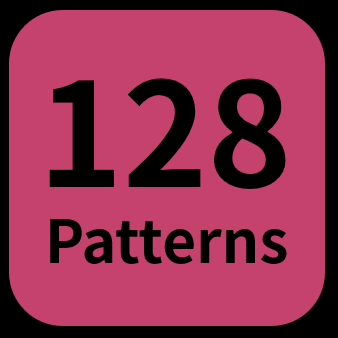 The parameter locking function allows you to record knob changes into your patterns. This automation function can be recorded live, or programmed in step by step.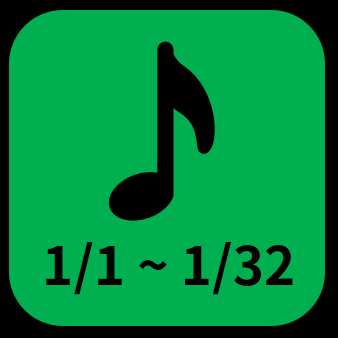 Sub-divide the tempo down to 32nd notes for higher resolution sequencing.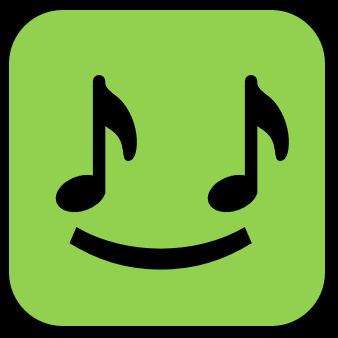 Sequence longer notes across several steps,
AKA Tied Notes.

Features for Live Performance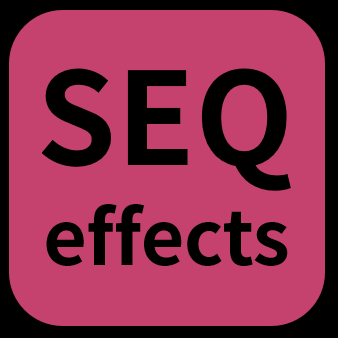 Three sequencer effects you can use to turn your sequence into a performance.
RANDOM, which jumps steps randomly.
STUTTER, which plays only the step you are pressing.
DICE, which plays by a note playback probability.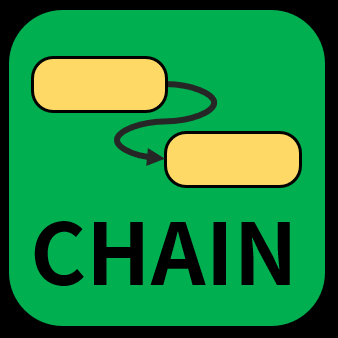 Link together multiple patterns using the CHAIN function to create longer uninterrupted sequences.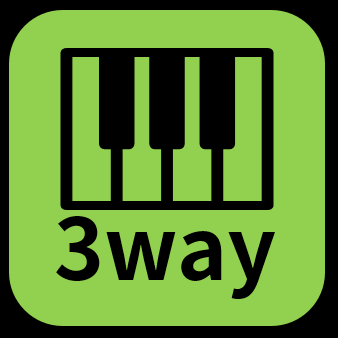 Program notes step by step or record them in real time. Additionally, you can also input notes to specific steps while the sequencer is playing to add variation when you're jamming or performing live.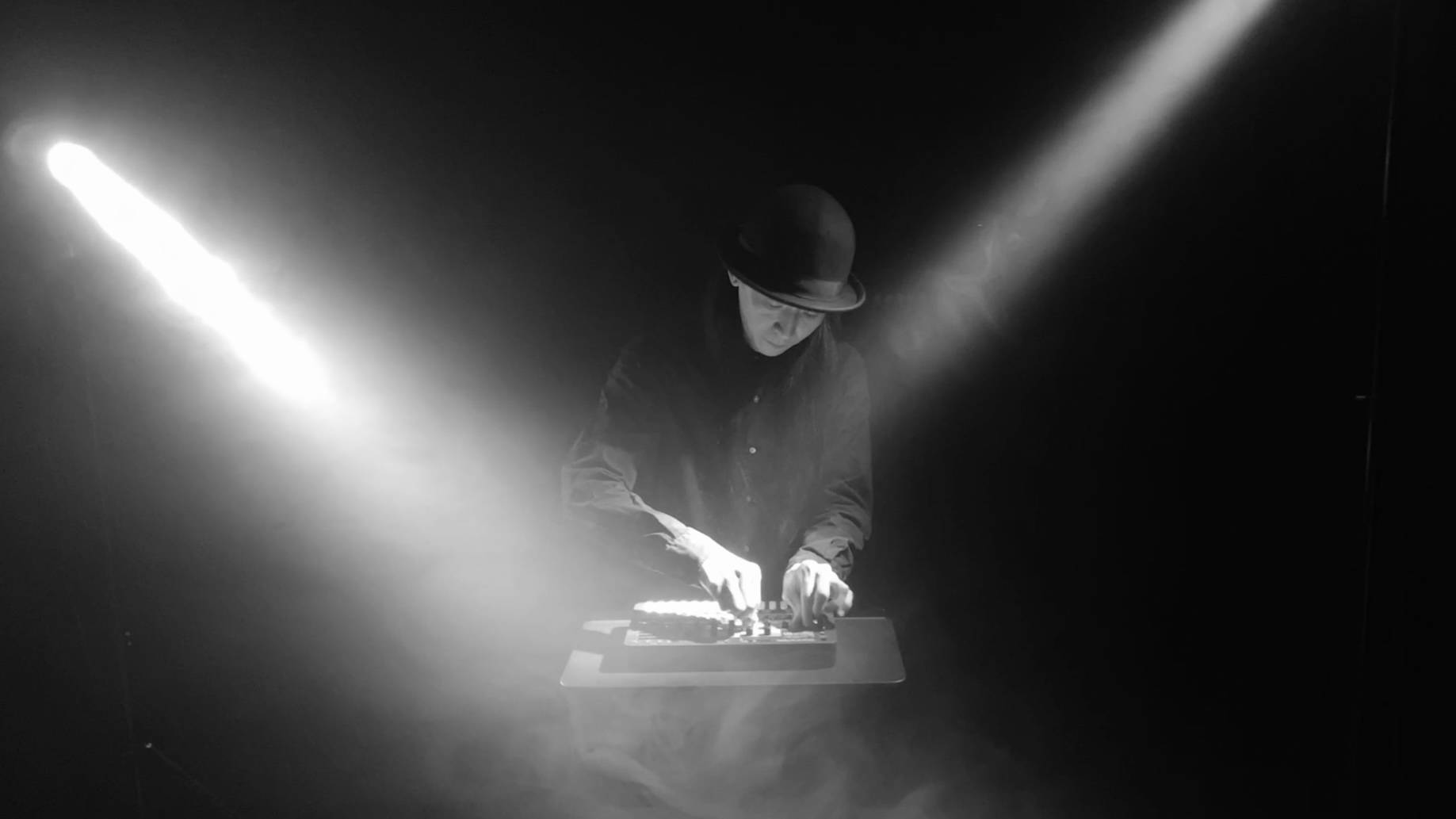 Thick sounding high, low, and bandpass filters are perfect for live performance and sound sculpting. The filter also has its own LFO and Envelope which modulate the cutoff frequency.


Chorus, Flanger, Send Delay, Insert Delay, Bit Crusher, Reverb, Distortion, LPF, HPF and Isolator.



In addition to the six-note polyphonic mode, there two additional modes:
MONO / LEGATO with adjustable glide time for creating basses and leads.
ARPEGGIATOR mode with 12 playing patterns, including PLAY ORDER mode.



Each of the four sequencer tracks has its own LFO which can affect both filter cutoff and pitch.



What is the LIVEN Series?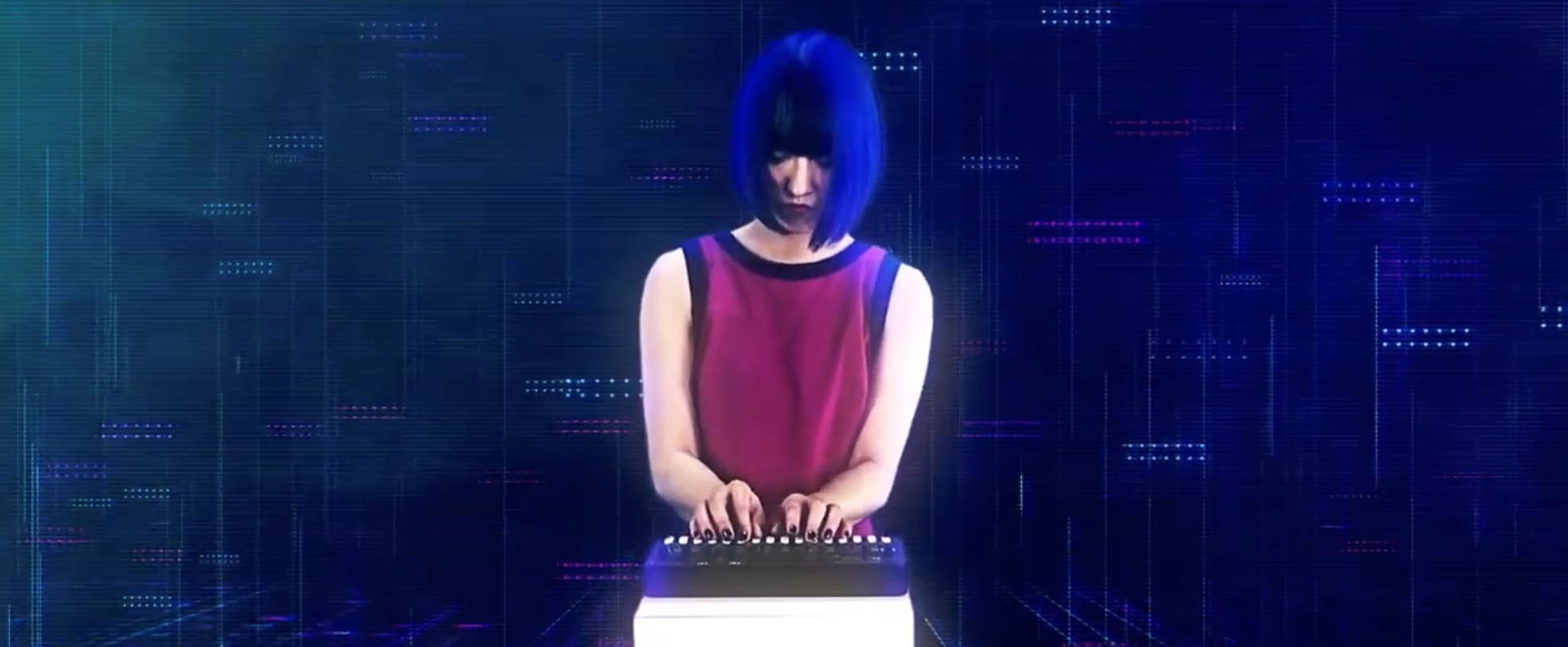 LIVEN synthesizers share a common hardware platform.
This platform features responsive hands-on controls which are optimized for jamming and live performance.

16 physical knobs provide intuitive access to all parameters.

No cumbersome menu diving.

 

The knobs and buttons are placed ergonomically, so that controls can be easily accessed with two hands.

 
The LIVEN does

not

have tiny cluttered controls.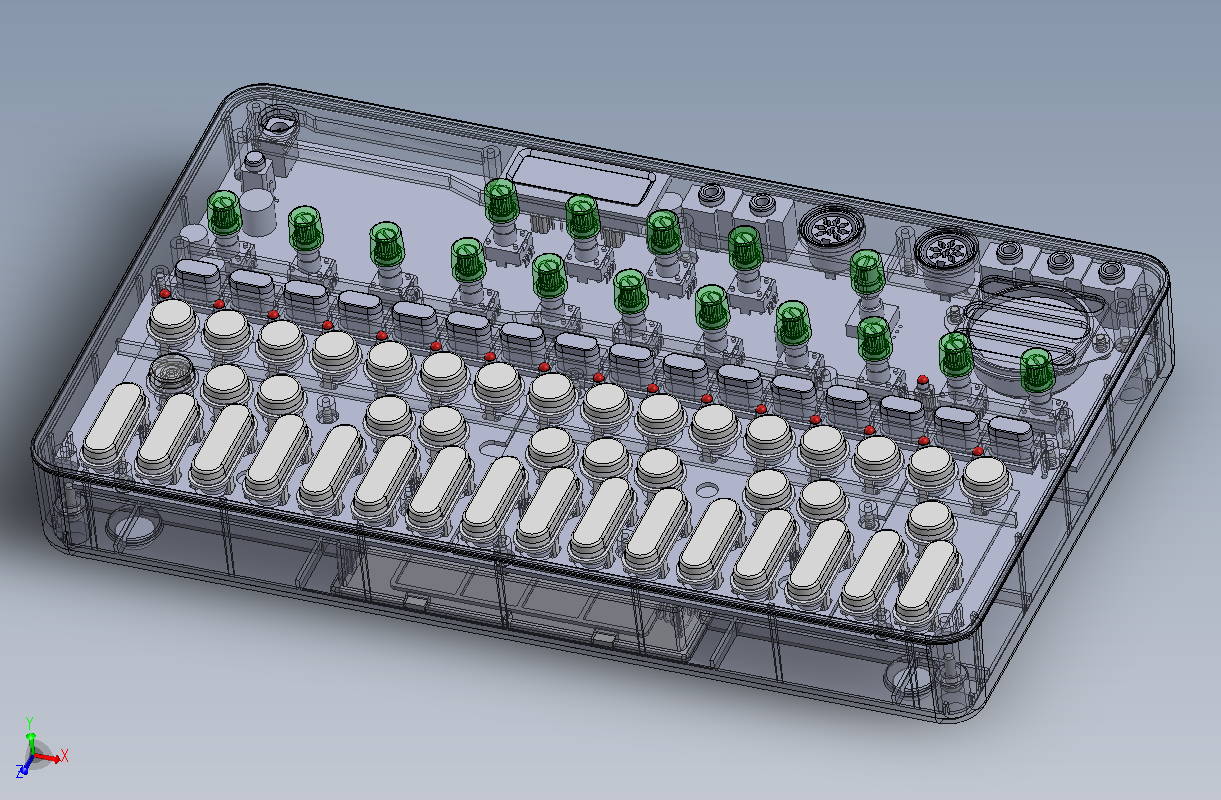 Dedicated physical sequencer buttons allow the user to make musical changes on the fly.
Unlike other portable synthesizers, the LIVEN series has separate keyboard and sequencer buttons which makes note entry much easier.

Effects Designed for Live Performance

Use the highly responsive DELAY and BIT CRUSHER to transform your pattern in real time.
Create disintegrating tape loop sounds by maxing out the delay's mix control and then tweaking the speed control. Create short loops for machine gun effects, or drop the speed down to hear the loop drop deeper and deeper with each repetition.
Use the BIT CRUSHER to dial down Liven 8-bit warp's sampling rate. Use it in small doses to emulate early digital synths, or max it out for devastating distortion.
Use the rich CHORUS and FLANGER to turn the 8-bit warps into a rich string machine.
DELAY Demo (this demo made by 8bit warps)
BIT CRUSHER Demo (this demo made by 8bit warps)
A Hub for All of Your Devices

Supports a Wide Variety of Clock Signals
Traditional MIDI and SYNC clocks are supported, as well as the Audio Sync function used by Teenage Engineering's Pocket Operators 2 and the ELZ_1, which combines the clock and audio signals into a single stereo cable.
Functioning as a bridge, the LIVEN can translate clock between MIDI, SYNC, and Audio Sync devices, so all of your gear can play in time.
With these input and output options, it is possible to bridge the MIDI clock, SYNC, or Audio Sync in any combination.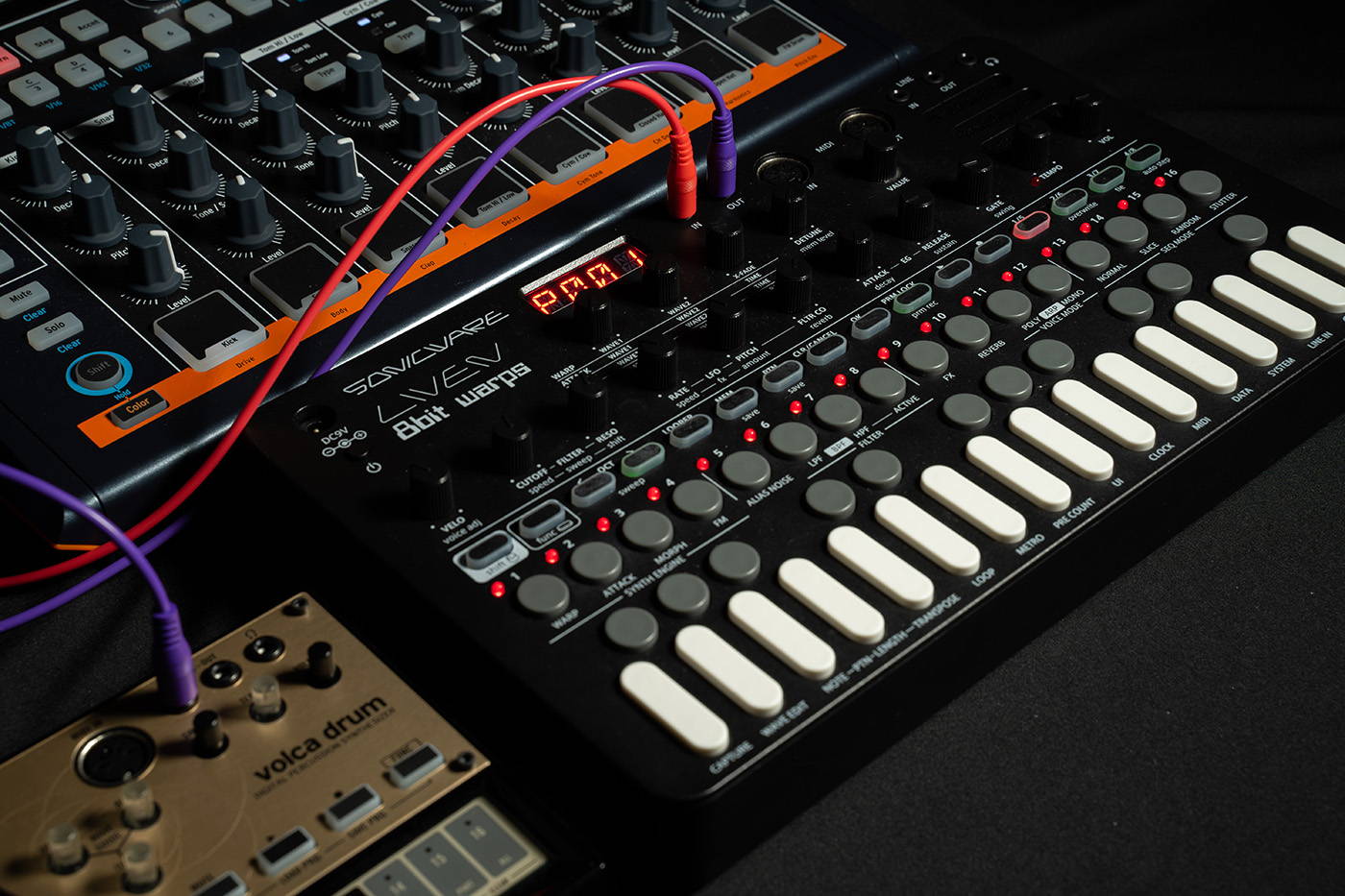 Hooks Right into Your Daisy Chain of Teenage Engineering 2 Devices
One of these devices is not like the others, but they will play together all the same! Use the LIVEN seamlessly in you chain of Teenage Engineering 2 devices, using their native Audio Sync function via 3.5 mm audio jack.
Lightweight, Battery-Powered, Built-in Speaker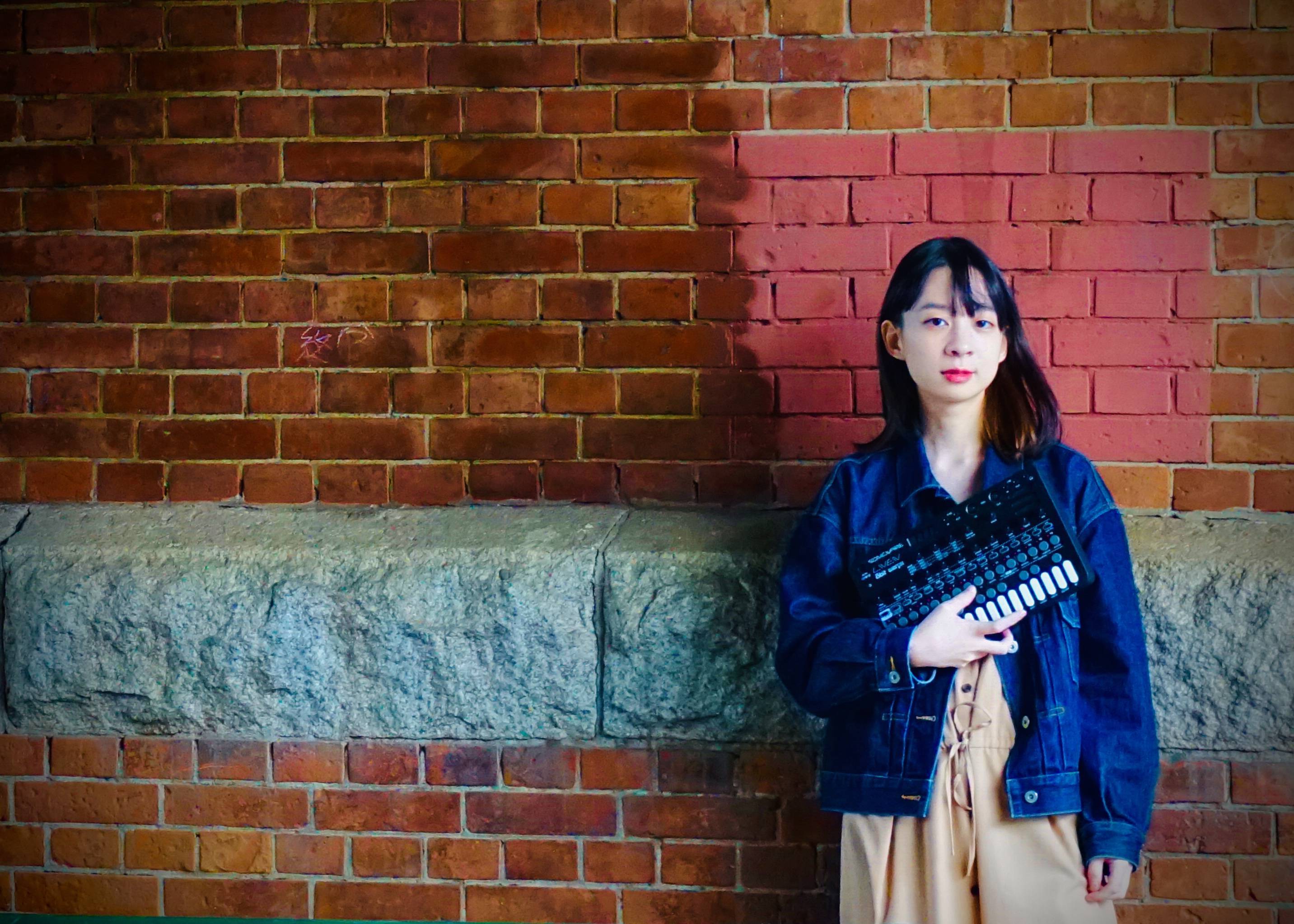 Weighing only 790g (Under 2 Lb.),
I can throw it in my bag, and I'm ready to jam!
The living room, the streets of downtown, the neighborhood park, now everywhere is a stage.
<Size>
297mm (W) x 176mm (D) x 48mm (H)
11.7 in (W) x 6.92 in (D) x 1.89 in (H)
<Weight>
790g
1.74lb.
<keyboard>
27 keys (with a hold function)
<Knob>
- 15 physical control knobs
- Optional LATCH function prevents jumps in value when knob position and parameter values do not match.
- LCD dot indicates when a parameter value matches the saved value, or when the value has been changed.
- One physical encoder.
<Audio output>
- Stereo line out (stereo 3.5mm mini jack)
- Headphone out (stereo 3.5mm mini jack)
- Compatible with Teenage Engineering Pocket Operator2 Series SYNC OUT
- Speaker
<Audio in>
- LINE IN (stereo 3.5mm mini-jack)
- Compatible with Teenage Engineering Pocket Operator 2 Series SYNC IN
<Interfaces>
- MIDI IN connector (5-Pin DIN type)
- MIDI OUT connector (5-Pin DIN type)
- SYNC IN jack (monaural 3.5mm mini jack)
- SYNC OUT jack (monaural 3.5mm mini jack)
<Power supply>
- 9V DC output AC adapter
Current: 1A or greater
Plug Type: EIAJ3 Standard
Inner Diameter: 1.7mm
Outer Diameter: 4.75mm,
Polarity: Center +
- Compatible with power supplies designed for the Korg Volca 1 .
- 6 AA batteries
<Synth Engine>
- Four FM synth engines, X-LAB, XFORM, X-LFO, and LIBRARY
*6-note polyphonic
<Voice mode>
- 6-note polyphonic mode
- Mono mode
- Legato mode with adjustable glide time
- Arpeggiator modes (Up, Down, UpDown, DownUp, Up&Down, Down&Up, Up+1, Up+2, Down-1, Down-
2, Random, Play Order)
<SWEEP>
- Sweep with adjustable speed, range, and curve
<Filter>
- Low Pass
- High Pass
- Band Pass
Each track has its own filter envelope.
<Effects>
- Chorus
- Flanger
- Send Delay
- Insert Delay
- Bit Crusher
- Reverb
- Distortion
- Low Pass
- High Pass
- Isolator
<LFO>
- Each track has one LFO which can affect both pitch and filter cutoff.
- Adjustable LFO Shapes.
- Adjustable start time delay for each LFO.

<Sound memory>
- 512 FM sound memory slots (16 x 32 banks)
<Sequencer>
- 4 tracks
- Up to 64 steps per pattern
- 128 patterns
- Step length can be set from 1/1 to 1/32
- Enter longer notes (Tie)
- Track level and pan can be set independently
- FX send amount can be set independently for each track
- Pattern BPM / Global BPM can be set
- Step copy and paste function
- Track copy and paste function
- Transpose function
- Real-time recording
- Directly enter notes for each step when sequencer is on or off
- Parameter lock function
- Random playback function (Playback step size can be set)
- Stutter function
- Note Trigger probability can be set between 25% and 100%
- Pattern chain function
- Metronome and pre-count function
- Swing function

<MIDI>
- Notes, control changes, clock input/output
- IMPORT/EXPORT of user data
- Firmware update via Sysex
<Accessories>
- FM sound editing overlay
- Warranty

The AC adapter is not included.
Please use 9V DC output AC adapter (1A or higher, EIAJ3 standard inner diameter 1.7mm outer diameter 4.75mm, center +).
Compatible with power supplies designed for the Korg Volca 1 .
Disclaimer
1 - Korg and Volca are registered trademarks of Korg Inc.
2 - Teenage Engineering and Pocket Operators are registered trademarks of teenage engineering ab.
Reference to these brands and trademarks are made for comparison and compatibility purposes and are not endorsements or recommendations from their respective organizations.